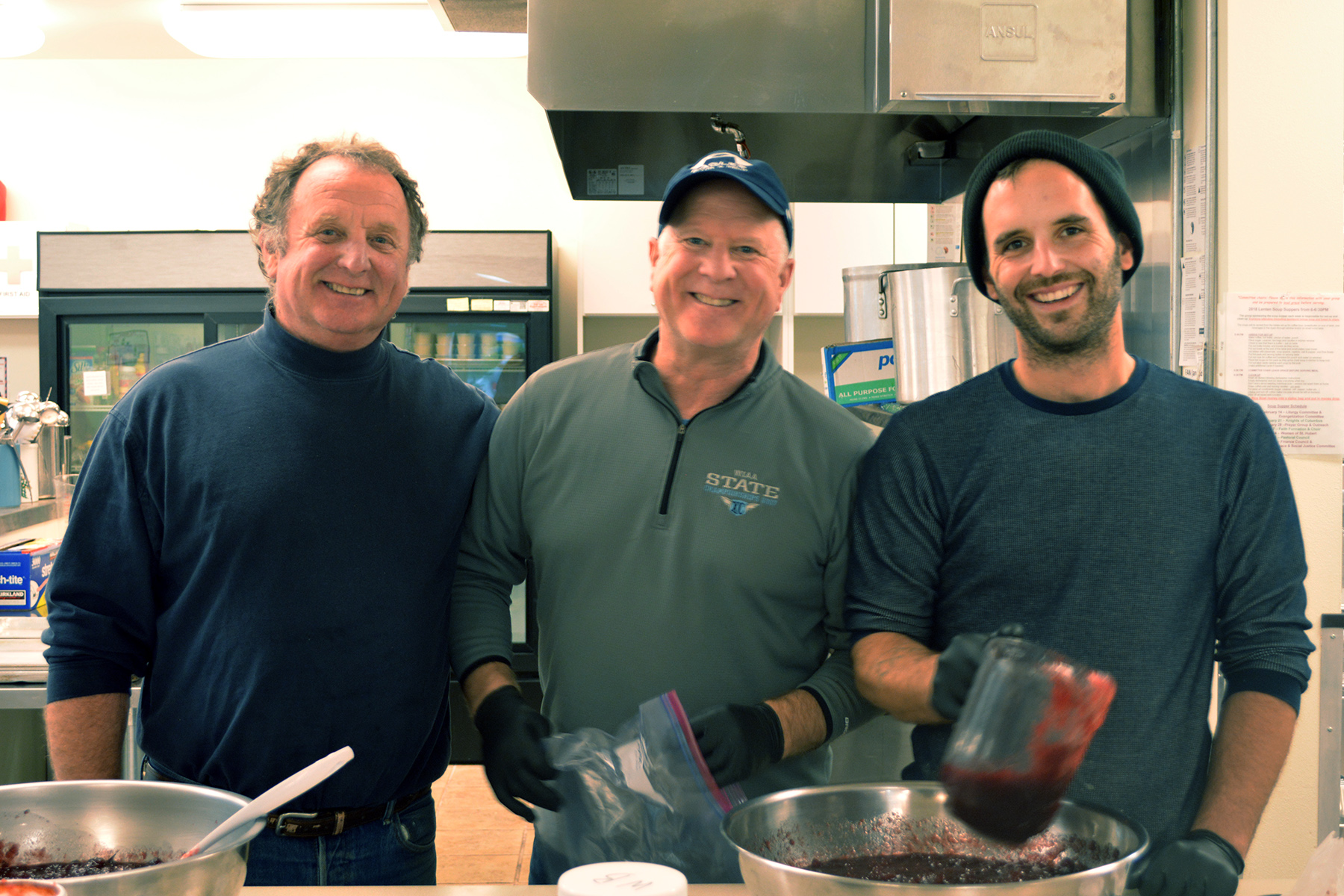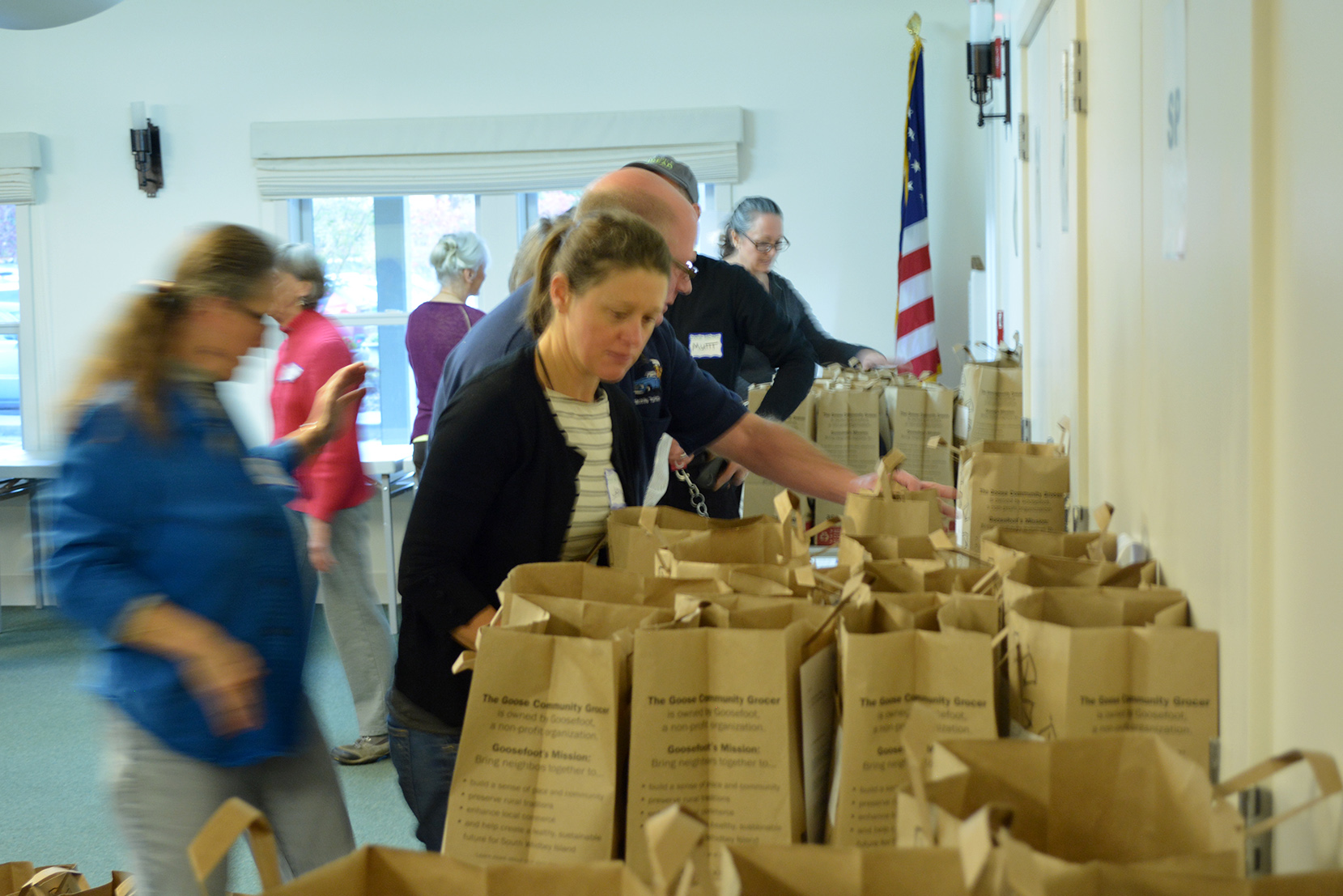 WE WELCOME YOUR PARTICIPATION!
We encourage all volunteers to be vaccinated.
We have many volunteer opportunities during the week of Thanksgiving with food prep as well as after the Mobile Turkey Unit is completed, with cleanup. You may choose to deliver meals to homes and workplaces, or you may wish to help with working the food line or help with packaging and logistics.
We are very appreciative of all of our volunteers.  Your safety this year is paramount to our community.  Therefore, we will be following all protocols mandated by the Health Department, and the facility where we are working as well as all food safety regulations. This includes wearing masks indoors, proper hand washing, etc.  We want you to feel safe if you feel that you can assist us this year.  We will once again be working in two different locations for food preparations.  Please check the schedule carefully in choosing a task that you would like to volunteer to help us with.
To comply with all Covid-19 protocols, we ask all volunteers to:
Check your temperature before leaving home to volunteer.  If your temperature is elevated, please remain at home.
If you have any other symptoms associated with Covid-19, please remain at home.
Take a shower the morning you will be working and make sure you wear clean clothing.
Be prepared to wear a mask during your volunteer time.  No exceptions can be accommodated.
If you are planning to be a delivery driver, please see the special directions below regarding advance training this year.
2022 Volunteer Schedule
Tuesday Nov 22, 2022
St. Hubert Catholic Church
Cranberry Sauce
9-11 AM

FILLED

Turkey slicing
12-1 pm

FILLED

Turkey slicing
3-4 pm

FILLED
Langley United Methodist Church
Potato peeling
9-11 am

FILLED

Turkey slicing
12-1 pm

FILLED

Potato peeling
1:30-3:30

FILLED

Turkey slicing
3-4 pm

FILLED
Wednesday Nov 23, 2022
St. Hubert Catholic Church
Pie Slicing
9:30-11:30 AM

FILLED

Turkey slicing
Noon – 1 PM

FILLED

 
 
 
Langley United Methodist Church
Rolls, butter & utensils
9-11 am

FILLED

Turkey slicing
12-1 pm

FILLED

Turkey slicing
3:30-4:30 pm

FILLED
Thursday Nov 24, 2022
South Whidbey Elementary School – South Campus
Servers
8 AM

FILLED

Packers
8 AM

FILLED

Runners
8 AM

FILLED

 
 
 
Thursday Nov 24, 2022
South Whidbey Elementary Schools
Delivery drivers
9:00 am
Deliveries from Greenbank to Coupeville *  

FILLED

Delivery drivers
9:20 am
Deliveries from Greenbank to Langley* 

FILLED

Delivery drivers
9:40 am
Deliveries from Freeland to Clinton* 

FILLED

 
 
 
*Driver training this year will take place via Zoom.  Even if you have delivered before, please make sure you can attend one of these short sessions.
Tuesday, 11/15  7 PM
Wednesday, 11/16  7 PM
Saturday, 11/19  10 AM
The Zoom link will be sent with your volunteer confirmation.
If you are carving turkeys, packaging rolls and butter, cutting and packaging pies, or packaging cranberry sauce; you will be required to wear gloves, an apron and a hairnet (and NO jewelry including rings, bracelets, watches etc.) as required by Health Department regulations. These items will be provided. WEAR SHORT SLEEVES.
All volunteers must wear a mask at all times when working with food.
Drivers should refer to the Drivers Information 2022 for more information on safety precautions being planned this year.
Mobile Turkey Unit 2022 Drivers Information
Thank you for volunteering to drive and deliver meals for us in these unusual times we are all facing. Following are some key items that you need to be aware of this year versus last year as the location has changed.
All drivers or driver teams will be assigned specific times to arrive at the South Whidbey Elementary School to pick up the meals. The address is 5380 Maxwelton Rd., Langley, WA, north of highway 525.  Please enter the school off of Maxwelton Road and turn into the north "buses only" lane. There will be a sign on Maxwelton pointing to the driveway. Follow the curve around to so that all drivers can be checked in before receiving the meals for delivery. See the maps below for more information.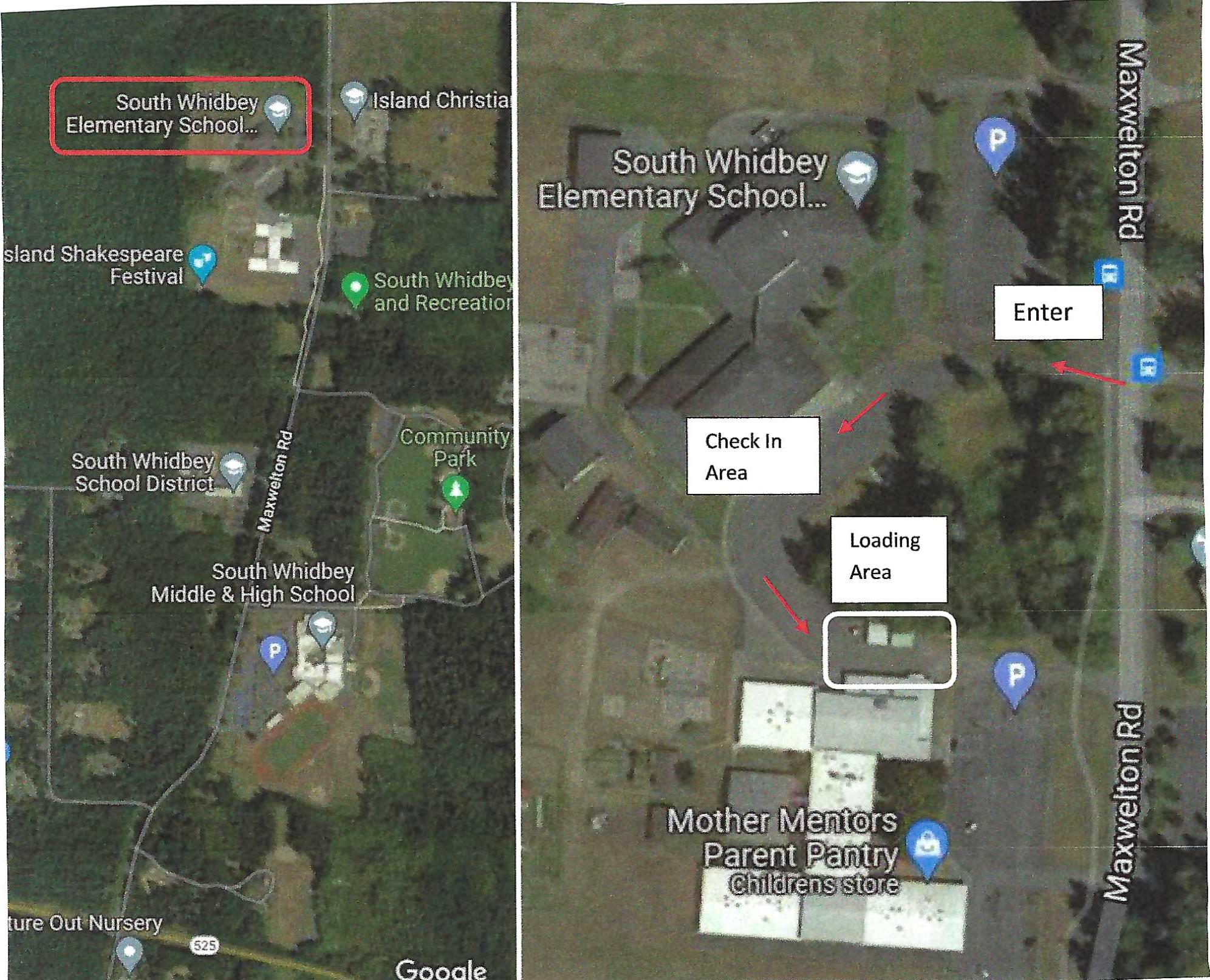 Deliveries will be by zones just as they have been in the past.
Depending on the number of driver volunteers and meal orders we get this year we may have more meals per driver team that need to be delivered.
You will be directed to the loading zone where you will be given the meals for delivery. All Mobile Turkey Unit personnel will be in a mask during this process.
If you ordered a volunteer meal(s), let us know your name right away and we will make sure you get those meals also.
We will ask you to either pop the trunk or the rear hatch on your vehicle so that we can load them inside for you. Please do not exit your vehicle during the loading process. When you exit the school grounds you can turn right onto Maxwelton and proceed to the traffic light at highway 525 and proceed on your route from there.
Note that some deliveries may be for more than one bag. Please pay close attention to this detail and ensure that all bags for one address are delivered. See the example below for the information that will be on a bag if there is more than one bag per address. Also note any special instructions on the tags like the example below that states to knock loudly.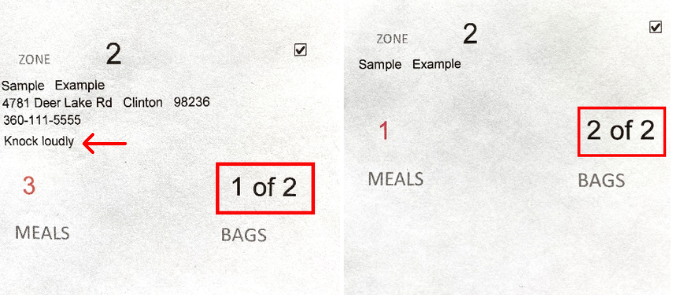 7.  When you arrive at the address for the delivery, please do the following;
One person should exit the vehicle and take the bag(s) to the door.
Set the bag(s) on the front porch, ring the doorbell or knock on the door and back up a minimum of six (6) feet away from the door.
Wait for the recipient to answer the door to insure they know the meal has been delivered and wish them a Happy Thanksgiving from Mobile Turkey Unit.
8.  If you cannot find the location, or no one is home call the phone number on the card you will be given when you check in at the school Thursday morning.
9.  Occasionally some people want to give the drivers money or thank you cards as a token of their appreciation. Unfortunately, this cannot take place this year, but if they insist, ask them to contact the Mobile Turkey Unit after Thursday for instructions on how to accomplish this. The website information is here. mobileturkeyunit.com

**2022 – Sign up has ended and we are so appreciative of all of you that are planning to volunteer to serve our community.
Please contact our volunteer coordinator Paul Morris at [email protected]  with any questions.