Our History
This year, the Mobile Turkey Unit celebrates its 25th year as a community service.

The Mobile Turkey Unit was the brainchild of Tom "Tommy" Arhontas.  Tommy never met a stranger, was a friend to many, was loved and is still missed by all. Thomas Arhontas, 78, passed away May 9, 2008 on Whidbey Island.
He was born April 17, 1930 in Chicago, Ill. and lived on Whidbey Island beginning in 1995.
Tom served in the Marines during the Korean War. He was discharged with honors in September 1959. After the Marines, Tom was an auto mechanic, owning his own business in Los Angeles, Calif. for 30 years. He served as district governor of the 20th District of the American Hellenic Educational Progressive Association in California. Recently he served as commander of the American Legion Post 141 and of VFW Post 7482 on Whidbey Island.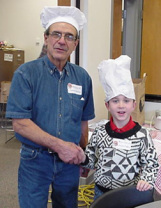 Tommy was working for the South Whidbey High School transportation department at the time of his death.
He founded the Mobile Turkey Unit in 1999 and in his last years was volunteering at the Eagles Aerie.
In his spare time, Tommy owned and operated Tommy's Gyros at Bayview. He worked at the fairgrounds cooking each year and at the Highland Games at Greenbank Farm selling food.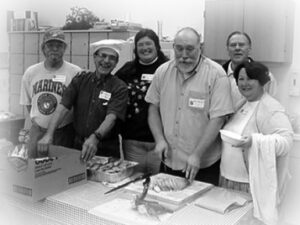 He was joined by his wife of 30 years, Irma Arhontas, plus co-workers and friends in starting the Mobile Turkey Unit. For the first several years, the cooking was done in the South Whidbey School District Bus Barn kitchen and employee lounge, then at the Eagles Aerie restaurant off of Highway 525. For the past several years it has been hosted in the kitchens at St. Hubert Roman Catholic Church and Langley United Methodist Church, both in Langley as well as the South Whidbey School District.
Though Tommy is missed, we are proud to carry on the Mobile Turkey Unit as a living tribute to its founder.
Here are some of the early South Whidbey Record articles about  the Mobile Turkey Unit.